Why should you buy a Subway® franchise?
Boasting over 2,500 stores in the UK and Ireland, and more than 43,000 stores in over 110 countries, Subway® is the largest sandwich outlet in the world. And all but one of its stores are franchisee owned.
As an owner, you'll be offered the opportunity to be your own boss, to be in business for yourself, but not by yourself. If you're new to entrepreneurship, you'll also have the advantage of expert support from your franchise owner, along with in-depth training and business plan guidance. Most importantly, you'll be able to work with a company with a well-known brand identity and mass market penetration. Franchises can offer a low-risk gateway to business ownership. In fact, according to a 2018 study, 93% of franchisees claimed profitability, whereas less than half of start-ups make it past the first 5 years.
However, franchise businesses do not always come cheap. Intimidating start-up costs, along with mounting advertising and operating fees can make becoming a franchise owner an alienating, if not seemingly unachievable goal. At Hilton Smythe, we have considered an alternative solution: buying a franchise from resale.
We've weighed up the costs of buying a Subway® franchise from scratch when compared to buying an existing store from resale. The difference may just provide the hidden solution to help you reach your entrepreneurial goals.
Starting from Scratch
Cost 1: Franchise Fees – £8,500

This initial fee buys you the right to use the Subway® brand name within a certain location, for example, if you're purchasing a store in a specific town's hughstreet. The franchise fees will also cover the initial training and business development advice.

Cost 2: Royalty and Advertising Fees – 12.5% of Weekly Gross Revenue.

Subway® franchise owners pay 8% of their weekly gross revenue towards royalties and an additional 4.5% towards advertising. However, it's worth noting that these fees are taken before your cost of goods, rent and cost of hiring employees are deducted.
To put it simply, your royalty fee is almost the same as an ongoing membership fee, allowing you to remain part of the franchise and to operate under the brand. Typically, the royalty fee contributes to the cost of the ongoing training and support that you will be entitled to.
To be expected, your advertising fees cover the cost of advertising and promotions, including any marketing that Subway® does on your behalf.
Cost 3: Purchasing a Store: £85, 570 to £221,240.

Subway® doesn't provide an exact number of the cost to open a new franchise. Rather, they say that your initial investment will depend on your intended store's size, build out costs and on its location.
If you're looking to start a franchise from scratch, it will be your responsibility to source a venue, often in a shopping centre or hughstreet, research the costs, and put forward a business plan with Subway®'s local business development team.
This means that finding a suitable site, ensuring that the necessary equipment can be installed and that any remodelling can be performed, is all down to you. Once your location has been approved, it's your responsibility to hire a contractor to build your store.
All things considered, Subway® estimates that the total cost of buying a franchise will range from anything between £85,570 and £221,240 upfront. Granted, the more desirable locations, bringing the most footfall, will be the most expensive to start up.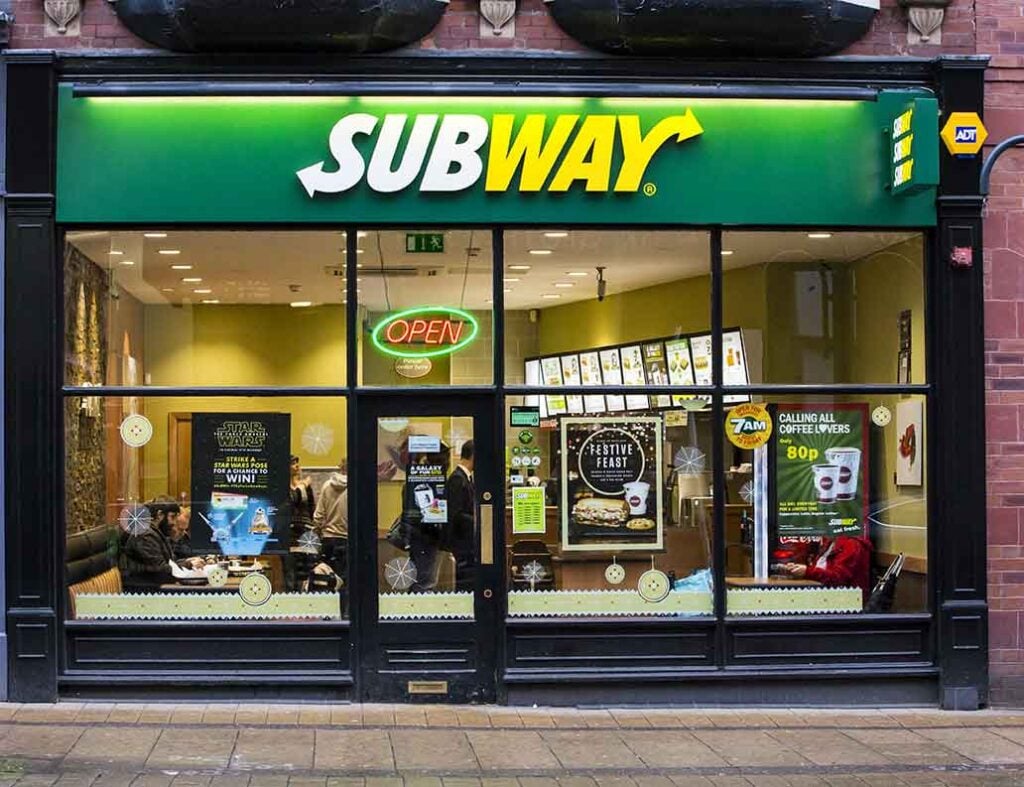 Buying a Subway® Resale Franchise
A shrewder, cheaper alternative when it comes to owning a Subway® franchise lies in buying from resale.
Subway® offers the opportunity to buy a franchise from any current owners who are looking to sell. This means that you avoid the hassle of having to remodel an empty store into a fast food outlet, but you also cut much of the overall cost.
For instance, your set-up costs will be lower, given that the store and all of its equipment will likely be included in the purchase price. Although you will still be liable to cover the ongoing Royalty and Advertising fees, you could be paying drastically less than if you were starting from scratch. It also means you avoid any hidden costs, such as equipment leasing if you can't afford to buy the necessary appliances outright.
In essence, through resale, you'd be buying a store with the required infrastructure, with a recent refurbishment, that's in an established location, and at a lower price.
Subway® recommends that all new franchisees should have half of the required start-up capital before seeking a business loan to cover the rest of the initial purchase cost. Therefore resale, particularly in a busy location, may be the only realistic option to buy.
This is where we can help
For example, we have received offers for a Subway® franchise priced at £29,995+SAV. It doesn't take any complicated mathematical calculations to see how that's dramatically more affordable than even the lowest start-up cost when buying a Subway® franchise from scratch.
Our second case is Dover's Cannon Street Subway® store. This town centre location, priced at £59,995 +SAV, is also thousands of pounds cheaper than Subway®'s lowest start-up estimate.
2020's lockdowns have reshaped many a business's operations. The Swaffham Subway®, priced at £49,995+SAV, works with Just Eat to adapt to a delivery-led model. With a loyal customer base, including nearby medical staff from local Doctors, the franchise represents just one of many resale solutions provided by Hilton Smythe.
When franchises are concerned, it's time to rethink resale. They make for an affordable access point to an established brand.
If you'd like to discuss how we can help you to become a Subway® entrepreneur, contact Hilton Smythe on 01204 920 137.