An eco-friendly business is one mindful of the waste products it creates, and the way it uses resources. Eco-friendly business modifications are the next step to a better world (and a better sale for your business).
There are many different available options for packaging, advertising and day-to-day running of the office that have a low impact on the environment. This could include using online marketing tools rather than printed leaflets, working with suppliers that utilise hybrid technologies and making sure that a part of what you consider when buying or selling is the cost and impact of the shipping of the product.
According to a report published by Unilever last year, a third of consumers prefer to buy from businesses that are "doing social or environmental good". This percentage is set to rise as more people become aware of the effect their purchases have on the environment and more conscious forms of consumerism spread.
The UK government has committed to a target of cutting greenhouse gas emissions to almost zero by 2050, under the terms of a new plan to tackle climate change. Then Prime Minister, Theresa May, said there was a "moral duty to leave this world in a better condition than what we inherited". Cutting emissions will also benefit public health and cut NHS costs.
Britain has been praised by several green activist groups for being one of the first major nations to propose such an ambitious target. The UK's previous 2050 target, to reduce emissions by 80% was agreed by MPs under the Climate Change Act in 2008, but has been superseded by a new, much tougher, goal of "net zero" greenhouse gases by 2050. That means domestic and business emissions will have to be avoided completely or, if this is not possible, offset by planting trees or removing CO2 from the atmosphere.
Making your business more environmentally friendly will pay dividends, not only in saving you cash, but also getting up to code well ahead of the government deadline, meaning it will have more pulling power should you come to sell.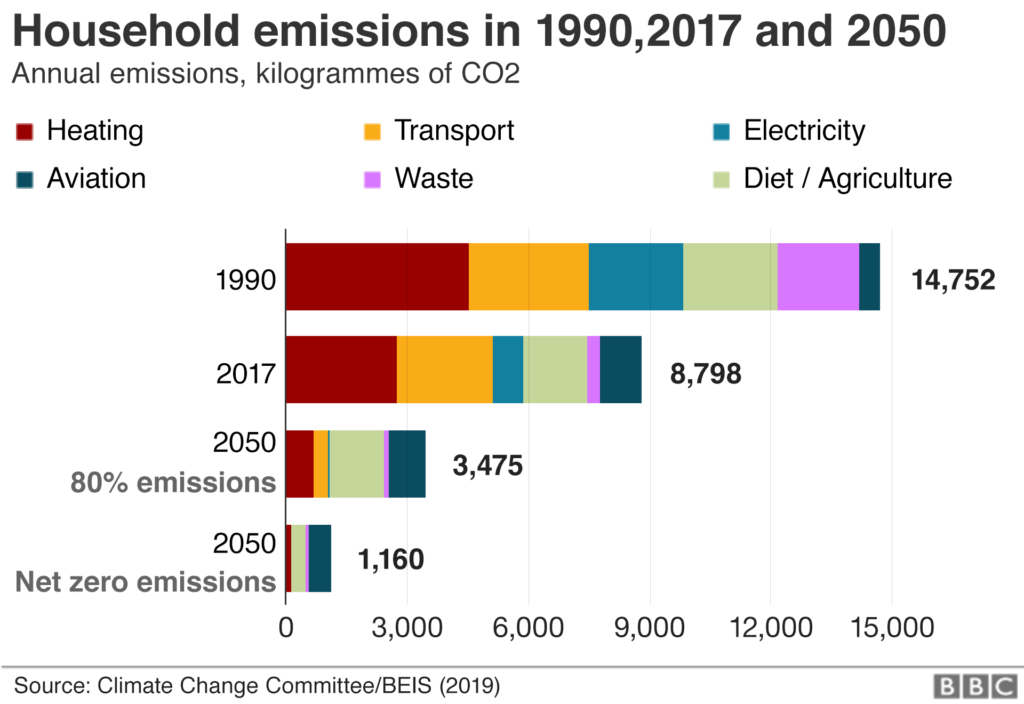 Eco-friendly business – 5 ways to a greener business
​
1. Reduce your plastic waste
It's no secret that we should all be buying less bottled water, drinking fewer coffees in disposable cups and refusing straws in bars, but have you thought about how your business could be contributing to the huge amount of plastic waste created every year? Do you have a water cooler that's typically equipped with a sleeve of plastic cups? You could instead ask staff to bring reusable cups, or how about gifting each of them a reusable water bottle? If you regularly host meetings and provide lunch, sandwich platters often come with a lot of plastic packaging, as do biscuit tubs and doughnut trays. Can you find a company that serves food in biodegradable packaging, or buy from a local business that will allow you to use your own reusable plates, trays and so on? Transport emissions are responsible for around 25% of the UK's carbon footprint, according to the UK Government, so not only will you be reducing your plastic use, but also your carbon footprint.
2. Promote your business with eco-friendly products
If you like a bit of swag to give to potential clients, you might have promotional items for your business. At the very least you'll have business cards, but you might also have notebooks, pens, and highlighters that are printed or embossed with your logo. But these aren't often made in green and sustainable ways. It is possible to find a manufacturer that is 'A Carbon Zero Company', who can offer eco-friendly products, such as Brandelity, a printing and branding specialist that offers a selection of environmentally friendly promotional products, which have been manufactured using natural or recycled materials and Indigo Promotions who provide eco merch from pens to drinkware. They won't increase your carbon footprint and are ideal for increasing brand awareness, plus recycled or upcycled material provides a positive talking point that shows you're in step with wider consumer change.
3. Swap to renewable energy sources
​
​An increasing number of businesses are powering their premises and digital platforms using renewable sources, which is a great way to reduce your carbon footprint. Not only can this help to improve your green credentials, but it can save you money and reduce how much you rely on the world's dwindling supply of fossil fuels. Consider using green website hosting, switching to a renewable energy provider or even installing solar panels, if you own your workspace. If you aren't totally sold on the idea of switching to renewable energy, it's well worth looking into the benefits. Conserve Energy Future has a list of nine ways businesses can benefit from renewable energy, which can give you more insight into why you should take advantage of this option.
4. Encourage your staff to use greener forms of transport
​
Transport emissions are responsible for around 25% of the UK's carbon footprint, according to the UK Government. If you can encourage staff to use greener forms of public transport, this could have a massive effect on the environmental impact of your business – vodka giants Absolut incorporated the concept in its 'Nothing to Hide' campaign to promote its sustainable business values. If you're feeling particularly flush, you could look at electric or hybrid company cars, but the more budget options include car share, cycling or walking to work schemes. The government's Cycle to Work scheme can help employees save up to 39% on the cost of a bike and accessories. Flexible working hours can also help to reduce the carbon footprint of your employees' commute. If they miss rush hour, they'll spend far less time sitting in idle traffic, or if people are working from home, there's no transport emissions at all.
5. Recycle your electronics
We all have a printer that never works or mobile phones that look like ancient bricks but instead of throwing them in the bin, it might be worth looking at a more eco-friendly solution especially as the UK's E-waste will hit 50 million tonnes by the end of 2018. Recycle Now can point you in the direction of a local recycling centre that will happily accept a lot of your electronics or you could donate them to a local electronics upcycling centre, which helps people to mend electronics instead of disposing of them.
All of these points might seem like small changes but together they can lead to big differences and a different mindset, where we don't just throw things away but think about our actions as part of an interconnected, greener world.
Energy Efficient Business – Solar Panels
Matthew and Greg O'Neil are selling their business PlayKidds with Hilton Smythe, in preparation for the sale, the O'Neils have made a major investment of £20,000 in Playkidds to make it more appealing to potential buyers and to make playtime more fun for kids. They have installed 40 solar panels, LED lighting and state-of-the-art heating panels, which will have a significant effect on the business's electricity bills.
Matthew: "Last summer was incredibly warm, and we found that a lot of people were not bringing their kids to soft play. Part of the reason for this is that when the kids are playing, they get really hot when you're just using traditional heating systems to warm the room. Our new heating panels keep the café area warm, when this is needed. Heating the panels rather than heating the whole atmosphere, means the children are able to play without getting too hot.
"Using solar panels for our electricity was a bit of a no-brainer. We promote an environmentally friendly message to the children who use Playkidds, and we wanted to practise what we preach. When we find a buyer, they'll be delighted with the cost savings too. We've had our first electricity bill since we made the investment, and we've noticed a significant decrease in the cost."
Recyclable For Sale Boards – Kremer Signs
As a business owner you have probably made changes to your business but did you know that Hilton Smythe's For Sale boards, that we offer to our businesses when selling their business with us, are made from recycled materials, offering a totally green solution for your business.
The material used to make our For Sale boards are made from Correx – manufactured from recycled materials exclusive to Kremer Signs. Old materials are ground down into pellets and made into recyclable Correx sheets. The boards are printed using the recycled 'Kremer Correx', the post wood is sourced from kiln-dried Scandinavian softwood, felled from FFC approved renewable forests. Once the boards have been erected outside your business or property and reached the end of their life, they can be recycled. The normal method of disposing of the boards once they reach the end of their life is landfill, which can be hazardous to the environment. What we can do is arrange a collection from Kremer Signs who will collect the boards and recycle them free of charge, they are then delivered to Kremer Signs HQ. The boards are then sent off to be recycled, which will extend their life by being made into plant pots, horticulture products, automotive parts, packaging, safety products and much more.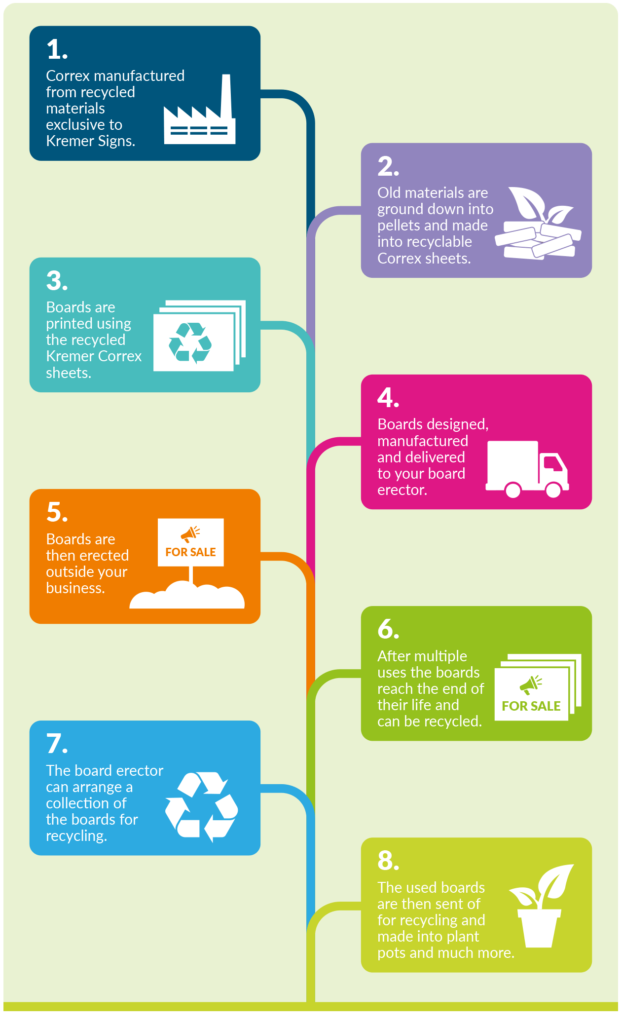 Indigo Promotions – Eco Merch
How sustainable is your business when it comes to daily essentials and stationery? There are great suppliers out there that can offer eco-friendly merchandise for your business with this one (Indigo Promotions) offering branded eco merch.
The company covers items from drinkware, bags, lanyards to pens, sweets & confectionery and quirky office stationery – ALL made sustainably. For example, their executive pens are made from recycled CD cases.
Whether your business goes through a lot of stationery or not, ordering in some eco-friendly merch can be cost-effective and great for branding; not just for the fact you can have the eco merch branded but you can shout out about it on social media and get the positive engagement as you show you're part of the collective effort to be environmentally friendly.
We recently ordered some eco merchandise from Indigo Promotions as part of our #GoGreen pledge this month with notebooks and pens all made from recyclable materials and have shared online to encourage other businesses. Customers and audiences will note this when it comes to your brand, ethos and services.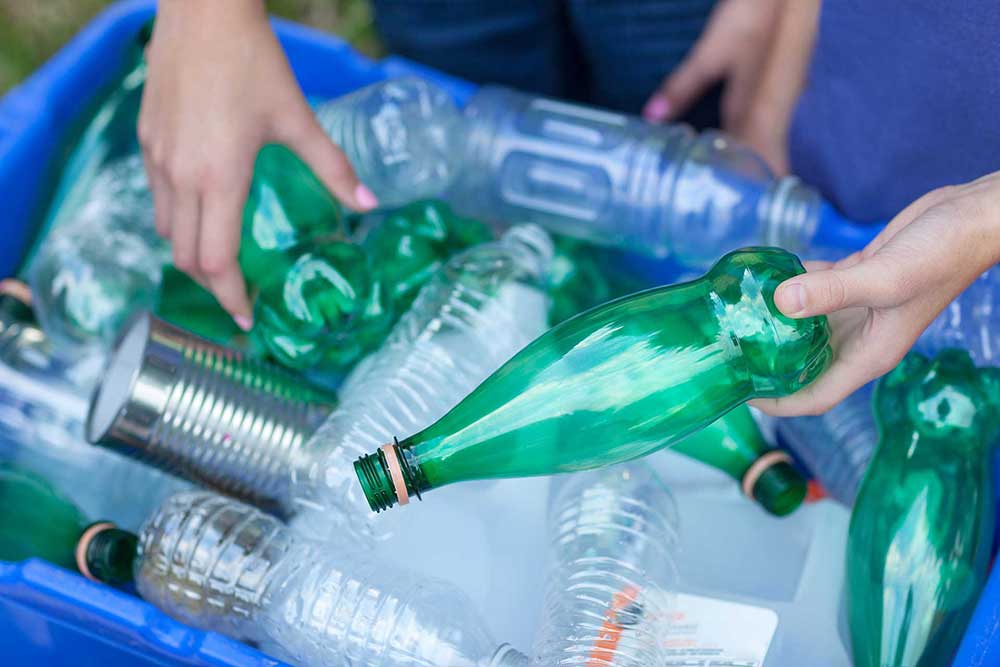 Commercial Waste – Recycling
It goes without saying that we all need to be doing more to recycle and dispose of waste more ethically. As a business, you should be using as much of the sustainable resources as you can. For example, Paperchase are a great company that provide recycle bins to dispose of confidential papers; you can use these around an office to collect all paper to be recycled.
Depending on your local council, making sure you have recycle bins for your business is important. Also, depending on the type of business, you need to analyse how much waste you go through that can be recycled. For instance, in an office, the paper & card recycle bins are obvious, but you may not think about the recycle bins for tins, cans, plastic & glass. Having indoor recycle bins to collect plastic bottles and cans etc. from staff is a good modification and having a week routine of emptying them into the outdoor recycle bins. Try it and see how much you collect? Especially if you're a company full of brew drinkers as all those milk bottles can be recycled.
Thinking of becoming an eco-friendly business? Maybe you need to renew your EPC (Energy Performance Certificate)? If you're wanting to sell your business, you need an EPC and we can arrange this for you. Call 01204 282 464 to enquire or to request a FREE NO-OBLIGATION BUSINESS VALUATION, fill in the form below.