Hilton Smythe receives Feefo Gold Trusted Service Award 2021
Hilton Smythe, a national business broker with headquarters in Bolton, has achieved the Feefo Gold Trusted Service award, an independent, seal of excellence recognising businesses for delivering exceptional experiences, as rated by real customers.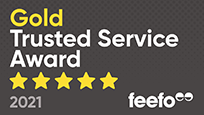 Created by Feefo, Trusted Service is awarded only to businesses that use Feefo to collect genuine reviews and insights. Businesses that meet the high standard, based on the number of reviews they have collected and their average rating, receive the award.
A highly valued badge of approval, this accreditation remains unique, as it is based purely on the interactions with real customers. As all reviews are verified as genuine, the accreditation is a true reflection of a business's commitment to outstanding service.
Hilton Smythe, which helps facilitate the sale of small and medium-sized businesses throughout the UK, received its ratings from customers on both the buying and selling side of its operations.
Feefo gives Gold Trusted Service awards to businesses that have collected at least 50 reviews between January 1st 2020 and December 31st 2020, with a Feefo service rating of 4.5 and above.
Craig Graham, Group Operations Director, commented: "We are truly delighted to have been recognised by Feefo and our customers as providing gold service. Service is at the core of everything we do and is so very important to us, so we are absolutely thrilled to have reached such an accreditation. The entire team is focused on delivering the very best in customer service and 2020 has been a real challenge for our team and our customers, so we are doubly pleased with the result.
"We thrive on feedback from our customers and we work tirelessly to ensure that we implement their feedback to keep on improving. We are constantly looking at new ways of keeping customers happy and are continuing the hard work into 2021 to exceed our customers' expectations. I would like to take this opportunity to say a huge thanks to all our team and especially Service Manager Belinda Daniels who has played an instrumental role in delivering the highest levels of services to both our buyers and sellers."

Congratulations to Hilton Smythe on winning this year's award
Steph Heasman, Director of Customer Success at Feefo, commented: "The Trusted Service award has always been about recognising companies that go way beyond the norm in customer experience and generate great feedback from happy customers.
"This year, despite the incredible challenges of a global pandemic, so many companies using Feefo have continued to provide remarkably high levels of service and they deserve a huge amount of credit for what they have achieved. It's why we have changed our criteria to be fair to the organisations that have struggled in such difficult circumstances. At Feefo we help our clients give their customers the best experiences possible.
"I'm confident that throughout 2021 we'll see even greater customer experience achievements from our partners as we return to something like business-as-usual."
Feefo is a reviews and customer insights technology company that provides businesses with the tools to collect real, purchase-verified reviews and insights. Working with over 3,500 clients, Feefo ensures that all feedback is authentic, by matching it to a legitimate transaction, to increase consumer confidence and enable businesses to make smarter business decisions.
Find out how we can help you sell your business