Mark, who is from Shirehampton, has worked in corporate and wedding catering and also spent time as a bar and restaurant manager, was in the process of becoming self-employed and, as a regular customer of the coffee shop, was really keen to buy it when it came up for sale.
Mark was able to keep all the staff on as their knowledge would be key to the success of the business and made one slight change by opening on Sundays and Ruby Jeans Coffee Shop has been rewarded with an increase in business that has enabled it to create new jobs.
As a result, Mark has been able to create two new jobs and has increased the hours of its existing five staff.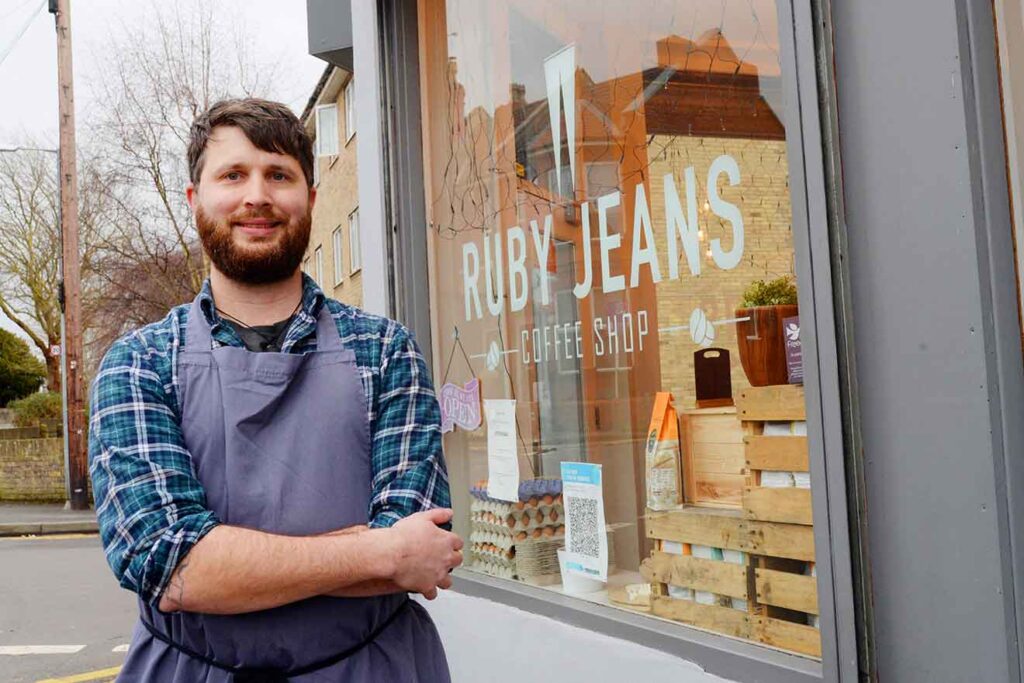 As well as extending the opening hours to include evenings and weekends, Ruby Jeans has expanded its food and drink takeaway services, especially during the lockdown periods, as well as offering customers its range of retail products such as locally produced cheese, bread, honeys and chutneys.
The team also created collections of products, which have proven popular with customers spending more time at home, such as the Baking Bundle, featuring a range of baking ingredients, and the Essential Bundles, which can be customised and include items such as sourdough bread, free range eggs, well sourced milk, Welsh butter and freshly baked pastries.
Working closely with Hilton Smythe, Mark undertook the process of acquiring the coffee shop ready to open before Christmas 2019.
---
---
"The staff I inherited have been amazing and I am so pleased to have been able to give them full time positions as well as taking on a couple of new people too. We are now looking to further expansion and hope to progress some exciting plans very soon."
Mark's advice to anyone thinking of buying a business: "Do your research and run the numbers, you may get swept away with the endless possibilities but ultimately it's all worth it and very rewarding."
Gareth Smyth, CEO of Hilton Smythe, said: "Mark is a great example of an entrepreneur who has pivoted their business to overcome a challenging period. Despite the pandemic he has taken a well-respected business and made it even more popular and an essential part of the local community. It was a pleasure working with him for the purchase of the busines and I wish him and his team the very best for the future."
Is the coffee industry profitable?
Café culture is dominating the food and drink market in Britain. The number of coffee shops in the UK is rising, as speciality coffees from around the world become a serious hit with Brits. £4.3 billion was spent on coffee in 2018.
Interested in buying a cafe or coffee shop then why not speak to the team today and see how we can help you buy your dream business or take a look at our cafes, coffee shops and tea rooms for sale.