Clicks over bricks.
Every day, the broadsheets declare fresh hell for the retail industry, as it faces the new and rising overheads associated with spiralling energy costs, inflation and supply chain disruption. Customer confidence has also suffered: retail sales volumes fell by 1.2% in the three months to July, as people tighten their purse strings and cut back on non-essential spending. Meanwhile, the Financial Times has reported that GOME, one of the largest privately owned electrical appliance retailers in mainland China, has recorded five consecutive years of losses and ended 2021 with a $642m deficit, as it struggles to compete with e-commerce titans such as Alibaba and JD.com.
According to the Office of National Statistics, Internet sales as a percentage of total retail sales has been growing steadily since 2006. The pandemic accelerated this trend, with the proportion of online sales reaching a historical peak of 37.8% in January 2021. However, there has been a general decline in the proportion of Internet sales since this uptick, even if it remains comfortably above pre-pandemic levels (19.8% in February 2020). The ONS reports that, between February and July 2022, there were consistent retail sales of – £2,200m in the UK.
Was the Covid-induced bump an ephemeral trend, then, or is e-commerce growth set to continue? And should businesses be investing in their online sales platforms?
E-commerce growth. The global e-commerce market revenue stands at $4.2 trillion, and U.S. digital buyer penetration has been estimated at 80%. Moreover, Statista estimated in 2021 that global retail ecommerce sales would grow by 50% over the next four years, reaching $7.4 trillion by 2025. In the UK, e-commerce revenue stands at £110 billion, with fashion as the major online seller. Amazon.co.uk occupies top place as the UK's leading e-commerce market, following by Tesco.com and argos.co.uk.
There are multiple factors that could drive e-commerce growth in the future, including:
Relatively low digital buyer penetration, which stands at only 86% in UK in 2022. Statista estimates that this will grow to nearly 90% in 2025.
Technological innovation: electronic payments, voice-assisted shopping, virtual and augmented reality, AI, etc.
Optimization of e-commerce sites for mobile use.
Increase in social commerce, anticipated by Shopify's integration with Instagram.
Increasing mobile device ownership.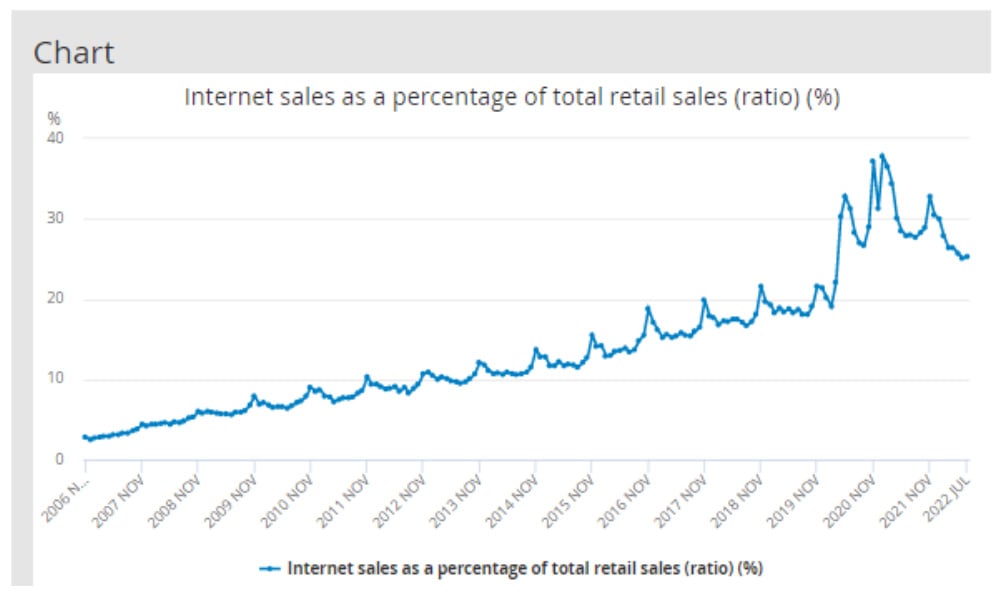 Benefits of online retail for businesses
Resilience of an omnichannel retail strategy.Retailers with a clicks and bricks retail strategy (e.g. Sports Direct, Argos and Next) have proved very resilient in the face of decreasing high-street footfall.
Excellent ROI and low overheads. Astronomical overheads are becoming a pressing concern of traditional brick and mortar retailers who bear the burden of business rates and who must now negotiate mammoth energy bills.
Access to customer analytics.
Fully operational 24/7/365.
Reduced advertising and marketing costs via a well-developed SEO strategy.
Improved operational efficiency. E-commerce automation facilitates inventory management and requires fewer employees.
Larger customer base and increased customer lifetime value. A reliable and optimized e-commerce website, with a global geographic presence, makes it easier to attract new customers, as well as retain the ones you already have, by providing a great online shopping experience.
Suited to nearly all product types. Modern e-commerce technology makes it possible to sell nearly anything online: for example, HelloFresh, which recorded a net revenue of £430.7 million in 2021, sells fresh perishable meal kits directly to customers' doors.
Is it time, then, to invest in your business' e-commerce strategy? The pandemic restrictions, the recent existential crisis caused by soaring energy bills and staff shortages, and the steady growth of the e-commerce market over the past 15 years, have highlighted the importance of investing in a robust and automated online presence. Equipping yourself with the tools to streamline operations and adapt to consumer trends will weather-proof your business against economic uncertainty and ensure continued success.
We have teamed up with MediaWorks, a digital marketing agency with offices in Manchester, Leeds, London, Edinburgh, Newcastle and Dublin to offer further advice and support for your digital journey. Media Works currently manage the digital strategy for Hilton Smythe and we are very happy with how they have supported us with our growth.

Simply fill in the form below to request a call back from Media Works and see how they can help you reach your potential.
Thinking of selling a business, then book a FREE Business Valuation today!