The death of the high street? Future proofing our centres.
The Office for National Statistics reports that in 2020, total retail sales volumes fell by 1.9% compared with 2019 – the largest annual fall on record. Meanwhile, online sales rose to a record high of 33.9% as a share of all retail spending. However, this dramatic slow-down was merely the nail in the coffin of high street retailing whose health, in the spring of 2020, was already in an advanced state of decline.
At present, the rate of vacant shops nationally stands at 1 in 10; in many towns, the figure is much higher – 20 to 30% of shops. A 15-year pattern of decline has seen companies such as New Look, Toys R Us, MotherCare, Debenhams and Jack Wills go into administration. And, in February 2021, it was announced that the mammoth online retailer ASOS had officially bought Arcadia brands Topshop, Topman, Miss Selfridge and HIIT.
Alistair Kefford, British Academy Postdoctoral Research Fellow at the Centre for Urban History at the University of Leicester, claims that there are systemic problems facing the high street of which a shift to online shopping is only one.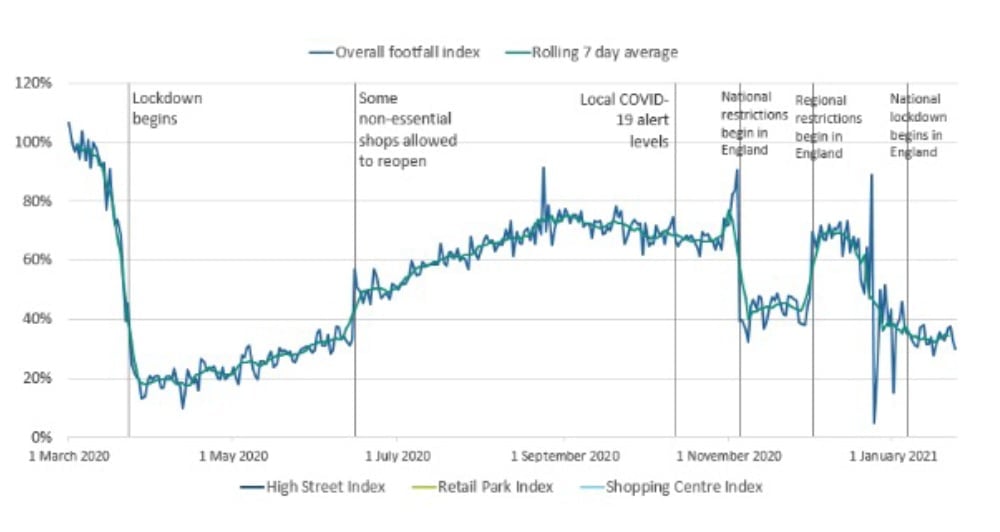 Over-supply of shops
This, Kefford says, is a legacy of post-war planning which encouraged local authorities to compete for investment and consumer spending. As the most valuable district in any town or city in the mid-20th century, the central shopping district became the most lucrative area for redevelopment.
Business rates
High-street retailers have long been demanding an adjustment to the local tax system, which continues to fall disproportionately on them via business rates, and which online retailers easily side-step. In 2020, the Chancellor of the Exchequer announced a one-year business rate holiday for all retailers, however a complete overhaul of the system of local taxation in Britain might be a more long-term remedy for our ailing high streets.
Excessive inflation of land and property values
Kefford observes that property values have been excessively inflated by forms of commercial redevelopment whose goal is to maximise rents and investor returns. This trend has priced small-scale, locally-owned retailers out of the high street, to be replaced by larger-scale chain retailers.
Fierce regional competition
Here in the North West, the very heartlands of the Industrial Revolution, post-war planning produced unhealthy levels of competition. Local authorities were aware of the threat posed by declining local industries and were eager to introduce retail development as a way of reviving their economies. The result, however, was that the towns of Accrington, Bolton, Bury, Middleton, Nelson, Rochdale, Salford, Stockport, Stretford and Walkden became engaged, not only in fierce competition with one another, but also with the regional commercial centre of Manchester. Throw the Arndale centre and the e-commerce boom into the mix, and you have a recipe for disaster…
Restoring the vitality of our urban centres
In light of Boris Johnson's recent expansion of the 'Future High Streets Fund' from £675 million to £1 billion, what is the future of Britain's high streets?
The "experience economy". In 2017, the Guardian reported that new figures show a boom in the "experience economy", taking as its case study the £25m arts centre, Home, in Manchester. The centre, having surpassed all its consumer targets, has injected new cultural energy into a once derelict area of the city. The Rock, Bury, has tapped into this new trend to a more limited extent with its various leisure elements and diverse evening economy. Most recently, the Martini's On The Rock sports bar has opened, bringing a taste of Manchester's Northern Quarter to this ex-mill town.
Combining digital and physical retail spaces. Given that customers are unlikely to forgo the convenience of online shopping any time soon, a successful retailer may well need to adapt to new consumer behaviour and offer a wider range of ways to shop: online, in-store, and click and collect. Physical stores might function not only as sales points, but also as distribution and returns centres. The continued success of high street retailer, Next, is, for example, often attributed to its seamless integration of online and offline selling platforms.  
Business rate relief. More permanent relief of high street retailers from the burden of business rates might present an attractive, if controversial, solution. Controversial because it is likely that home-owners, whose properties are largely protected from the burden of local taxation, would have to shoulder a greater share.
Public sector buy-outs. In the absence of private sector interest, some local authorities have taken to buying up high street properties. In November 2021, for example, Bury Council announced its intention to buy the Mill Gate shopping centre with developer Bruntwood. Paul Lakin, director of regeneration and economic growth to Bury's cabinet, says: "There is a compelling case for Bury Council to step-in and intervene to manage the transition from a retail-led centre to one with mixed food and drink, family leisure, visitor attractions, culture, and street markets."
Rethinking the social functions of our urban centres. There might be an increased emphasis on the social functions of our urban centres – that is, an emphasis on town centres as important sites for social interaction and civic activity.  Kefford reports that there have been tentative moves in this direction, with the opening up of vacant properties for community groups or for more low-value commercial activity.
Regional coordination. Greater planning coordination at the regional level has been recommended so as to avoid unnecessary competition between local authorities, all vying for investment and redevelopment.
Do you know what your business plans are for the next 5 years?

Have you considered your exit strategy?
The best place to start is finding out the current value of your business and its assets. Get in-touch today to receive a FREE no-obligation valuation and discuss the options available to you. It could be that you are looking to grow and need finance, you might want to see what your options are for a possible sale, or through our exit strategy planning we could help you identify how you can make your business more profitable.
Thinking of selling a business, then book a FREE Business Valuation today!